Varsity Develops Cancer Registries To Aid In Fight Against Cancer.
Mount Kenya University (MKU) has collaborated with Kiambu and Machakos Counties to create population-based cancer registries to aid in the fight against the country's cancer burden.
The Machakos Registry was completed and handed over to the County's Health Department in November of last year, in collaboration with AIC Kijabe Hospital, and the Kiambu Registry will be completed and handed over in the coming months.
The top researchers at the university, led by Dr Francis Makokha, have stated that they are working with the Machakos County Health Department to update the records.
He stated that they have donated a desktop computer to the International Agency for Research on Cancer (IARC), a World Health Organization agency, to host the cancer registry in the CanReg software.
The registries will aid in determining the prevalence of various cancers in the counties as well as their demographics. The data will then be used to inform national and county governments' plans to address cancer challenges.
"The registries will help establish the near exact number of people to care for to ease planning. They will guide in prioritising planning for cancer care, prevention and psycho-social support programmes to reduce the burden of cancer in these counties," he said.
The two Registries will add to the Nairobi Cancer Registry, which records cancers among Nairobi residents, and the Eldoret Cancer Registry, which records cancers among residents in the counties surrounding Eldoret, namely Nandi, Uasin Gishu, and Elgeyo Marakwet.
In Kenya, 42,116 people were diagnosed with cancer in 2020, while 27,092 died from cancer-related illnesses, with the figure likely being higher due to the country's lack of cancer registries.
Breast cancer is the most common type of cancer, accounting for 16.1% of all diagnoses, followed by cervical, prostate, esophageal, and colorectal cancer.
The university has also collaborated with other institutions, such as Aga Khan University Hospital and AIC Kijabe Hospital, to identify genetic changes in breast cancer patients in the country.
---
Also Read:
---
This research is being supported by a grant from Kenya's National Research Fund (NRF).
"The study helps to improve breast cancer treatment outcomes by based treatment on the genetic nature of the patient, as is the case of personalised medicine," added Dr Makokha.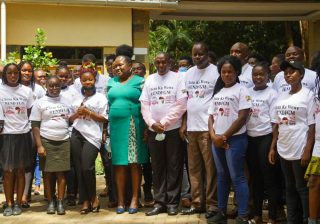 Varsity Develops Cancer Registries To Aid In Fight Against Cancer.