TSC Internship Vacancies Application Instructions And Procedures
The Teachers Service Commission (TSC) is an independent Commission established under Article 237 of the Constitution of Kenya, 2010.
To declare your candidacy for this position, you must submit your application through the TSC Human Resource Management Information System (HRMIS).
The procedure is a little complicated, but with the right tips and guidance, it is fairly simple.
Here is a step-by-step guide for aspiring TSC interns on how to use HRMIS software to submit your application for TSC intern recruitment.
To avoid errors, follow all of the steps outlined here.
Eligibility to apply for TSC intern teachers
To avoid wasting your valuable time, make sure you are qualified before applying for these positions. The requirements, duration, and remuneration for these positions are as follows.
The requirements for TSC internships
If you are interested in filling one of these positions, you must meet the following requirements:
You must to be a Kenyan citizen.
Possess valid and original professional and academic credentials.
Be unemployed and have not previously been permanently contracted by the TSC.
According to the TSC ACT of 2012, you must be a registered teacher.
Primary school teachers must have at least a P1 certificate.
A diploma in education is the bare minimum for secondary school tutors.
You should be prepared to be hired and assigned to any school in Kenya where your services are needed.
It is required to have personal accident insurance, which will reimburse any risks and losses incurred during the period.
You must also have a national identity card or a passport, as well as a copy of a valid KRA PIN certificate.
Two passport photos in different colours.
The TSC internship application process
As previously stated, you should apply for one of these available positions through the HRMIS TSC recruitment portal for interns.
As a result, you will require the following:
A computer or laptop
A working internet connection
Basic computer abilities
Mobile phone as TSC will send an SMS code to your phone.
5 to 10 minutes of uninterrupted time
Logging into the TSC internship recruitment portal
This procedure applies to all teachers, whether they are applying for secondary or primary positions.
Launch your preferred browser on your laptop or desktop: Double-click the icon to open it. You can use Opera, Chrome, Firefox, or Microsoft Edge.
Navigate to the HRIMIS login page.
Log in to HRMIS: Enter your login name and password, then press the "OK, log in" button This option can be found in the topmost menu.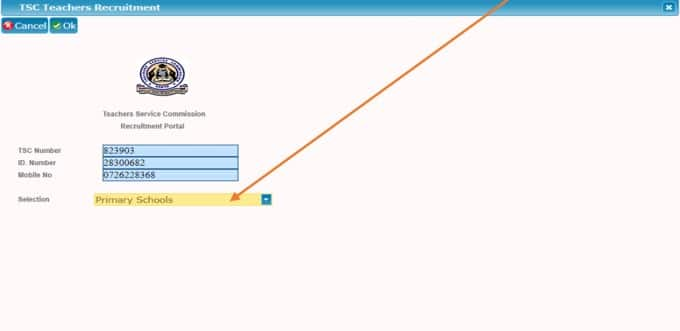 Tap teachers/secretarial, then wait for the next page's contents to load. Select the "Apply for teacher recruitment/internship" option: When you select this, a drop-down menu will appear.
Fill in the blanks with the following information: Please provide your TSC number, ID number, and mobile phone number. Then, using the drop-down menu, select either primary or secondary.
The application process for primary school teachers

Primary school candidates should narrow down to this procedure after completing the preceding seven steps above.
Click on the apply/view button: The following screen will appear. Tap the button indicated by the arrow in the screenshot.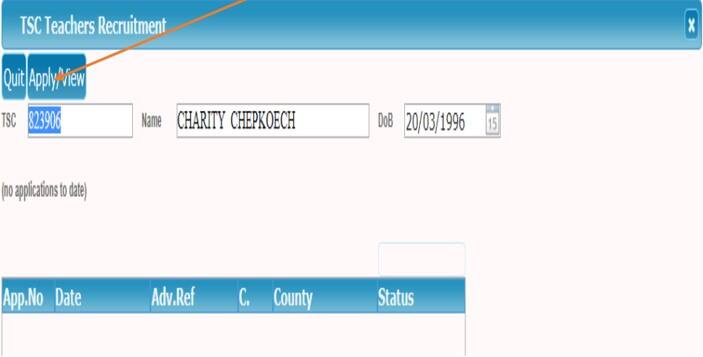 Enter your information: Enter your email address, PTE points, disability, home county, and graduation year.
Select the reference: Select your reference number from the drop-down menu shown below. After you select it, some details will be filled in automatically. If the details are correct, click "OK."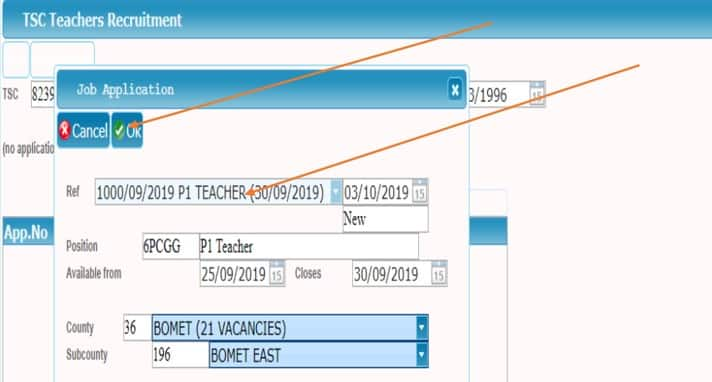 4. State that the information provided is correct: A popup window will appear. Click the "OK" button to confirm that all of the information you provided is correct.
5. A screen displaying the summary of your application will be displayed: It will display the counties/sub-counties in which you have applied.
It is important to note that the TSC recruitment per county guideline states that you may submit multiple applications in different counties/sub-counties.
Secondary school teachers TSC Internship application.
If you are applying for a secondary position after logging into the TSC recruitment portal, follow the steps below:
Click the "apply/vie" button to begin: The secondary school teacher application screen will appear. Click the arrow-pointed button.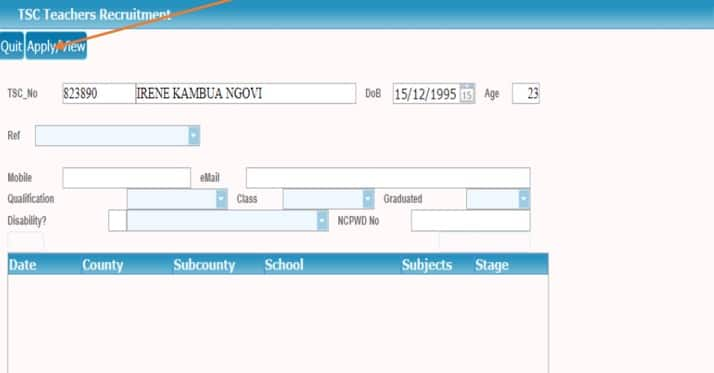 Fill in your information: On the following page, you will be required to fill in your information. You will enter your age, phone number, graduation year, class, NCPWD number, and qualification, among other things.
Select the ref number: From the drop-down menu, select your reference number so that some of your information is automatically filled in.
Indicate the schools in which you want to teach: Just below the "Disability" section, click the + button.
Choose your subjects, county/subcounty, and school: When you click the +button, a popup will appear asking you where and what you want to teach.
Press the "OK" button: Once you've completed step 5 above, press the button shown below.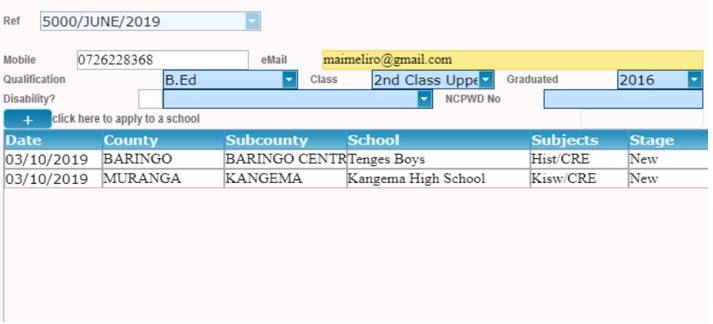 8. Verify the information provided: Select the "OK" option. Declare that you have provided accurate information to the best of your ability.
Application Instructions:
1. Agree to comply with the instructions below to proceed with your application.
2. From the Vacancies Section select the position you wish to apply for and click the "Apply" button.
3. Upon completion of each section ensure you click the "Save" button to save your entries before moving to the "Next" section.
4. Upon completion of your application ensure you click the "Submit my Application" to complete your application for the selected vacancy.
5. You will be notified through SMS of each successful job application you submit.
6. You can monitor the status of your job application from the "My Applications" section
NOTES FOR APPLICANTS
1. It is a serious offense to willfully give false information to the Teachers Service Commission.
2. All parts of this form must be completed by all applicants.
3. Do not apply for any post unless you possess all the qualifications given in the advertisement.
4. If you are invited for an interview by the Commission, bring your original certificates and testimonials
but make sure that they are returned to you before you leave.
5. Canvassing in any form will lead to automatic disqualification.
Also Read:
TSC contact information
If you encounter any technical difficulties, please contact the support team using the information provided below.
Head office location: Kilimanjaro Avenue, Nairobi
Phone number 1: 020 289 2193
Phone number 2: 020 289 2131/32
Email address: ddstaffingp@tsc.go.ke
Official website: tsc.go.ke
TSC Internship Vacancies Application Instructions And Procedures