Ministry Issues New Directive To School Heads Ahead Of 2022 General Elections
Kenya Secondary School Heads Association (KESSHA) leaders must ensure that students who are eligible to register for national identity cards do so, according to Early Learning and Basic Education PS Dr Julius Juan.
Dr Juan stated that many students who turned 18 last year did not register for IDs due to Covid 19, and he urged Deputy County Commissioners (DCC) and Registration of Person teams to assist KESSHA officials in making the exercise a success.
"Remember you have got learners now in form four and were supposed to sit for exams. The learners were turning 18 sometimes last year in November," he said.
The PS stated that students will need their IDs as soon as they finish their exams and that those who will be attending university will be looking for the Higher Education Loans Board (HELB), whose logistics require the document.
According to Dr. Juan, the law hasn't changed because you can't get a HELB loan if you don't have an ID card.
"For those who will want to join TVET institutions to benefit from government grants you must have an ID card, and for those who want to do any other activity soon after they finish their exams in March they need IDs," the PS said.
He stated that the government has made it possible for students to obtain IDs and pleaded with KESSHA leaders to organize and ensure that registration is available in schools so that students can register.
Because some students will be first-time voters, schools will play an important role in the election beyond serving as polling places.
According to the Kenya National Examination Council, 220,574 students in the 2020 KCSE exam were under the age of 18, and 289,079 were between the ages of 19 and 20.
Another 102,004 were between the ages of 22 and 24,208 were between the ages of 23 and above.
This means that 635,865 of the 752,605 candidates who took the KCSE exam were qualified to obtain identification cards and voter's cards.
This equates to 84% of the total number of candidates who took the 2020 KCSE exam.
In the 2019 KCSE exam, 84% (589,650) of the candidates were between the ages of 18 and 23.
There were 167,435 candidates under the age of 18, (303,573) between the ages of 19 and 20, (93,801) between the ages of 21 and 22, and (24,841) over the age of 23.
Schools have produced 1,225,515 eligible voters in the last two years.
If the numbers are correct, it means that another half a million students who will take their KCSE exam in March will be eligible to vote in the August election.
Between January 17 and February 6, the Independent Elections and Boundaries Commission will conduct the second phase of enhanced continuous voter registration (ECVR).
This means that if students have reached the age of 18, they can register as voters and vote on August 9.
Political target
According to some school leaders, the critical role of schools as a "voting bloc" has created opportunities for politicians to prey on potential voters.
According to school officials, this could be accomplished by assisting candidates aged 18 and up with the application of IDs.
Other methods include donating learning materials and other school necessities, such as sanitary towels to female students.
Education CS George Magoha ordered last week that success cards with politicians' names and images printed on them be destroyed before they reach students.
"Ensure that you destroy any success messages sent to students bearing political portraits without fear or favour. Our children are not in politics, they are just children," Magoha said in Kisumu.
Success cards continue to be the most popular method of conveying congratulations to exam candidates.
Magoha's action could be interpreted as a step toward preventing manipulation of the 'new voting bloc.'
Nicholas Maiyo, on the other hand, believes that schools have not done their due diligence in assisting students in making informed decisions as they exercise their right to vote.
Maiyo says the CS is critical in protecting students from politicians, but he has not empowered over 500,000 students he has each year on how to be responsible voters.
According to Maiyo, students are not taught or trained on how to be responsible voters.
---
Also Read:
---
"They probably won't be voting because they barely have any sense of responsibility towards choosing leaders. If they vote, their vote won't be influenced by what they learnt in school," he said.
According to Indimuli Kahi, chairman of the Kenya Secondary School Heads Association, responsible citizenship is taught in schools through social studies in primary and history and government in secondary.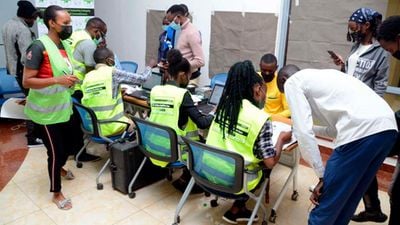 Ministry Issues New Directive To School Heads Ahead Of 2022 General Elections