African Students Stranded In Ukraine As Russia Invades The Country.
Thousands of African students in Ukraine are attempting to flee as Russia invades the country. However, with flights grounded and other options limited, their governments are powerless to intervene.
Ukraine is a popular destination for African students due to its low tuition fees and historical ties with Africa dating back to the Soviet era.
Thousands of African students study at its universities, particularly in medicine. Other Africans live and work in Ukraine as well.
Africans account for more than 20% of international students in Ukraine, who study in a variety of towns and cities across the country. Many are drawn in by the country's good technical and medical schools, as well as the relatively low tuition.
On Thursday, explosions were heard in several parts of the country, including Kyiv, the country's second-largest city, Kharkiv, and the Black Sea port of Odesa, prompting these students to express their concern for their safety.
Five Kenyan university students are among the thousands of people who have been trapped in Ukraine since the Russian government's invasion in the early hours of Thursday, February 24.
The five are students at Ternopil's Ivan Horbachevsky Ternopil National Medical University, as are other Kenyan expatriates caught in the crossfire following days of simmering diplomatic tensions between the two countries.
Following Russian President Vladimir Putin's declaration of war in the early morning hours of Thursday, shelling began, with several missiles fired targeting various cities in Ukraine.
Approximately 4,000 Nigerians are currently enrolled in Ukrainian universities. A number of them took to social media to express their dissatisfaction with the Nigerian government's lack of information.
Nigerians are the second-largest group of international students in Ukraine. Morocco has the largest group, with 8,000 students, followed by Egypt, which has 3,500 students.
Nigerians point to Morocco's and Egypt's divergent approaches in the run-up to the Russian invasion.
Morocco's government called on citizens to leave Ukraine as soon as possible two weeks ago, and Ali Farouk, the head of the Egyptian community in Ukraine, said last week that authorities in Ukraine and the Egyptian embassy were coordinating the return of Egyptian students.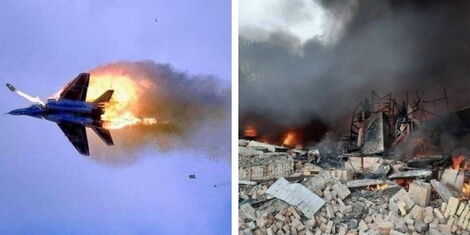 Concerns about their safety have grown since the outbreak of war. Ghana's Foreign Ministry has urged its more than 1,000 nationals to "shelter" in their homes or in government-designated shelters.
The National Union of Ghana Students, on the other hand, has urged the government to arrange for their evacuation, claiming that the war necessitates a response similar to that used when the coronavirus pandemic first struck.
"We believe the model used for the evacuation of students from China at the peak of the Covid-19 pandemic could be adopted in this instance as well," it said in a statement.
Morocco (8,000 students), Nigeria (4,000 students), and Egypt are the African countries with the most students in Ukraine (3,500). According to the pan-African publication Quartz, they will account for nearly 20% of all foreign students studying in Ukraine in 2020.
Nigeria's Ministry of Foreign Affairs stated that it had "received with surprise" news of Russia's incursion and that steps were being taken to keep its nationals in Ukraine safe and to "facilitate the evacuation of those who wish to leave" as soon as airports reopened.
---
ALSO READ:
---
Fatima Halilu, a Nigerian medical student in Ukraine, told the BBC that she left Kyiv nearly two weeks ago.
"All my friends are still in Kyiv. They seem stranded, lost and confused," the 18-year-old said.
Kenya is also concerned about the impact of the war, as well as financial sanctions imposed on Russia, on its vital tea industry. Russia is one of Kenya's top five tea consumers, helping the country earn foreign currency.
However, he stated that some traders may be unwilling to take the risk if Russia is barred from participating in international payment systems.
Kenya, the East African economic powerhouse and a non-permanent member of the UN Security Council, has gone even further in condemning Russia.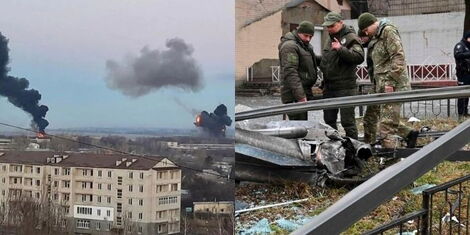 Martin Kimani, Kenya's ambassador to the United Nations Security Council, said in a stirring speech said that Ukraine's territorial integrity and sovereignty have been violated. The United Nations Charter continues to wilt under the relentless assault of the powerful.
Russia was also condemned by Ghana and Gabon, the two other African countries on the UN Security Council.
So far, no African country has come out in support of Russia's intervention, including Mali and the Central African Republic, where Russian forces are assisting governments in fighting insurgencies.
Sudan's powerful military commander, Gen Mohamed Hamdan "Hemeti" Dagolo, arrived in Moscow just as the war in Ukraine began, indicating that autocratic regimes will stand by it.
His trip was intended to strengthen ties with Russia at a time when the junta has become a pariah in the West for impeding the transition to democracy following the ouster of long-serving ruler Omar al-Bashir.
---
ALSO READ:
---
South Africa, the continent's most industrialised economy, has called for Russia's troops to leave Ukraine immediately, saying the conflict should be resolved peacefully.
South African investments in Russia total nearly 80 billion South African rand ($5 billion; £3.7 billion), while Russian investments in South Africa total around 23 billion rand.
South Africa's position is a setback for Russia, which sees it as an important African ally. Both countries have strong economic ties because they are members of Brics, a grouping of the world's emerging economies.
Earlier, the Ukrainian Embassy in Kenya issued a statement requesting assistance in the aftermath of a Russian military invasion. Andrii Pravednyk, Ukraine's ambassador to Kenya, told the media on Thursday that at the moment, only the entire world can prevent Russia from invading their territories.
He urged Kenyans and the rest of the world to unite in condemning the invasion in order to prevent the conflict from escalating. Russian President Vladimir Putin has pushed for it.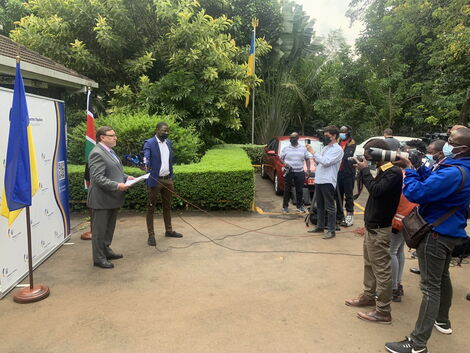 African Students Stranded In Ukraine As Russia Invades The Country.