No Evidence Of Alleged Sodomy – Aquinas High School Principal
A senior teacher at St Aquinas High School in Nairobi's Madaraka Constituency has been accused of covering up a sexual abuse case involving one of his students.
Aquinas High School Principal Stephen Gathii stated that the parent's allegations are unfounded. He says that preliminary investigations had revealed no evidence of sodomy.
Gathii stated that on the specified date, January 30, the boy complained of a headache and was given medication. According to the principal, he was turned over to the guidance and counselling teacher because he appeared withdrawn.
According to Gathii, the counselling teacher reported that the Form One student was bothered by some family issues involving his parents.
"He said he was feeling bad that his parents were separated and he didn't know if his father would continue paying his school fees," said the principal.
On February 3, he was sent home due to unpaid school fees. He was reportedly one of ten students who were sent home due to fee arrears.
"When the mother said she didn't have arrears, I asked her to bring him back only for her to send messages in parents' WhatsApp group that her son had been sodomised," said Gathii.
Gathii stated that they reviewed CCTV footage in the dorm and found no evidence of the alleged sodomy in the cubicle.
"We have more than 100 cameras in school and the clip from the dormitory does not show anyone leaving or entering the cubicle. We have recorded statements from his classmates. We cannot keep the culprit in school if we knew him because there are other students here," he added.
Sodomy Allegations At School
The mother of the student claims her son was attacked by other students in the dormitory on January 30 at around 2 a.m.
The woman claimed she called the school's dormitory master to check on her son and was told he had been sent home due to an unpaid fee balance.
Also Read:
She stated that she later called her son's class teacher, who confirmed that her son was on the way home due to fee arrears.
"My son did not have school fees balance but they sent him home. I wondered why he was sent home because I had settled the remaining balance of Sh1,500 through mobile banking," said the mother.
The woman claimed the class teacher informed her that, in addition to school fees, her son was ill and required additional medical attention. According to the teacher, the school nurse had attended to him, but he was not responding to the medication.
When she finally arrived home, she says she discovered her son looking pale and sickly.
My son has fallen sick before while in school and the teachers have sent a communication to that effect. However, they did not inform me of my son's sickness this time around," said the mother.
"I took him to Thika Level Five Hospital and it was confirmed that my son had been sodomised. We did some lab tests for HIV, Hepatitis B, and VDRL. Luckily, they were all negative. The most unfortunate thing is that he talked about it six days later. He had not been put on post-exposure prophylaxis which should be done within 72 hours," she said.
---
Also Read:
---
He was given anal ointment, pain relievers, and antibiotics. Thika Police Station received a report of the incident under OB number 10/4/2/2022.
"What saddens me is that my son is at home and traumatised yet the person who attacked him is still in school. It is unfortunate that some teacher scolded me for raising the issue in our parents' WhatsApp group," she said.
Parents were arrested at the school during a protest against the school administration's cover-up of the incident.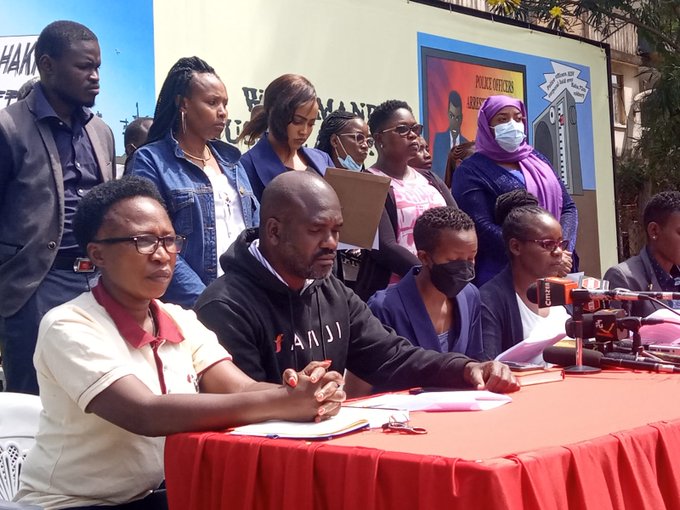 No Evidence Of Alleged Sodomy – Aquinas High School Principal