Kenyans React After School Punishes Parent Of Daughter Who Stole Mangoes.
Matungulu Girls School in Machakos County is under fire by Kenyans for asking a parent to buy 200 mangoes after a student allegedly ate some of the fruits at school.
According to the letter obtained by Teachersupdates.co.ke, the school administration accused the Form 2 student of stealing mangoes at the school and ordered the parent to pay the bill.
However, the guardian was not required to purchase the number of mangoes taken from the school by the learner. Instead, as punishment, he was told to buy 200 mangoes.
Furthermore, the school requested that the parent clear all outstanding arrears before returning the student to school.
However, the orders sparked outrage on social media, with Kenyans labelling them as punitive and outrageous in light of the country's difficult economic situation.
A debate erupted over whether parents should be made to pay for their children's mistakes.
Kenyans were disappointed with the punishment, with some claiming that the student would not learn a lesson if the parents covered the costs.
"Mrs I. W Kariuki principal of Matungulu Girls, you want to be sacked eh? Kenyan high school problems revolve around diet/hunger. They're the cause of indiscipline and strikes. So what's the solution, suspension or increase diet quality?" Wrote C. Nyakundi.
"Matungulu Girls… What a crazy move… Just a mango? Ms Kariuki needs a scold. Nkt!" Wrote Elijah Okemwa.
"But honestly why punish the parent…..besides….she wasn't the only one stealing……where are the others why punish just one …" Zawadi Bon added.
"This is total bs!…in the same context they should be exposed for the filthy toilets and compensate is for our suffering those days.." Schola Mbithi posted on the school alumni group.
Attempts to obtain a response from the school were futile, as numerous phone calls and texts went unanswered.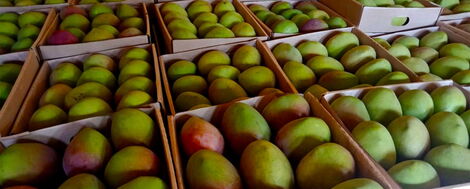 Kenyans React After School Punishes Parent Of Daughter Who Stole Mangoes