Mwalimu Sacco Emerge Best In Top 100 Sacco In Kenya.
According to the Sacco society registration authority (SASRA) Kenya, Mwalimu national SACCO sprang as the best Sacco. The ranking was determined by assets as well as the quality of services and products.
The teacher-owned Sacco continues to be the largest Deposit Taking, DT, SACCO in the country, with total assets of Kshs 57.73 billion in 2020, up from Kshs 52.73 billion in 2019 and representing a 10.96 per cent growth rate over the same period.
Mwalimu Sacco Emerge Best In Top 100 Sacco In Kenya
| | | | | |
| --- | --- | --- | --- | --- |
| Pos | NAME OF DT-SACCO SOCIETY | TOTAL ASSETS (KSHS. BILLIONS) | TOTAL DEPOSITS (KSHS. BILLIONS) | GROSS LOANS (KSHS. BILLIONS) |
| 1 | MWALIMU NATIONAL | 57.73 | 41.42 | 38.32 |
| 2 | STIMA DT-SACCO | 41.05 | 31.19 | 35.13 |
| 3 | KENYA POLICE | 39.05 | 23.67 | 33.17 |
| 4 | HARAMBEE | 32.56 | 21.53 | 22.24 |
| 5 | AFYA | 19.88 | 15.18 | 13.90 |
| 6 | METROPOLITAN | 16.73 | 7.64 | 16.67 |
| 7 | UNAITAS | 16.57 | 8.92 | 14.13 |
| 8 | IMARISHA | 14.16 | 9.86 | 11.10 |
| 9 | UNITED NATIONS | 14.08 | 10.71 | 8.42 |
| 10 | TOWER | 13.73 | 10.59 | 12.40 |
| 11 | UKULIMA | 12.74 | 9.12 | 10.49 |
| 12 | INVEST & GROW (IG) | 10.48 | 5.99 | 7.27 |
| 13 | GUSII MWALIMU | 10.44 | 7.62 | 9.39 |
| 14 | BANDARI | 10.01 | 6.54 | 6.99 |
| 15 | HAZINA | 9.69 | 7.41 | 7.57 |
| 16 | IMARIKA | 9.34 | 6.26 | 7.76 |
| 17 | MENTOR | 8.92 | 6.78 | 6.58 |
| 18 | KENYA BANKERS | 8.58 | 6.52 | 6.31 |
| 19 | NEW FORTIS | 8.18 | 5.97 | 5.86 |
| 20 | BORESHA | 7.94 | 5.45 | 6.47 |
Mwalimu Sacco Emerge Best In Top 100 Sacco In Kenya
Top 100 Sacco In Kenya
| | | | | |
| --- | --- | --- | --- | --- |
| 21 | KIMISITU | 7.66 | 6.01 | 5.67 |
| 22 | SAFARICOM | 7.47 | 6.03 | 6.05 |
| 23 | WINAS | 7.13 | 4.35 | 7.05 |
| 24 | COSMOPOLITAN | 6.95 | 5.56 | 5.34 |
| 25 | SHERIA | 6.72 | 4.83 | 5.97 |
| 26 | TRANS NATION | 6.62 | 4.80 | 6.27 |
| 27 | MOMBASA PORTS | 6.57 | 3.52 | 4.33 |
| 28 | KITUI TEACHERS | 6.52 | 4.74 | 5.64 |
| 29 | MAGEREZA | 6.35 | 4.56 | 3.37 |
| 30 | BINGWA | 6.21 | 3.23 | 3.95 |
| 31 | OLLIN | 6.02 | 4.08 | 4.87 |
| 32 | SOLUTION | 5.64 | 3.96 | 4.71 |
| 33 | WAUMINI | 5.26 | 4.11 | 4.26 |
| 34 | NACICO | 5.13 | 2.70 | 2.95 |
| 35 | USHURU | 4.85 | 3.86 | 3.28 |
| 36 | JAMII | 4.67 | 3.46 | 4.09 |
| 37 | K-UNITY | 4.60 | 3.34 | 2.91 |
| 38 | AMICA | 4.55 | 3.51 | 3.52 |
| 39 | KWETU | 4.38 | 2.40 | 2.15 |
| 40 | UNISON | 4.33 | 3.08 | 3.77 |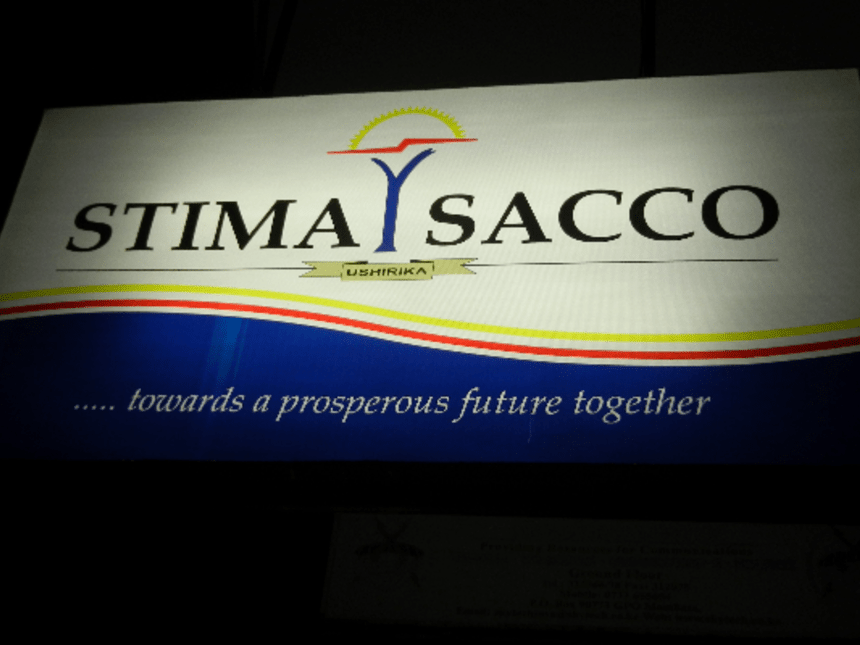 Top 100 Sacco In Kenya
| | | | | |
| --- | --- | --- | --- | --- |
| 41 | MAISHA BORA | 4.26 | 3.28 | 2.86 |
| 42 | YETU | 4.19 | 2.60 | 2.98 |
| 43 | FORTUNE | 4.08 | 2.33 | 3.74 |
| 44 | CHAI | 4.03 | 2.84 | 3.29 |
| 45 | CAPITAL | 4.03 | 3.06 | 3.31 |
| 46 | NYATI | 3.79 | 2.39 | 3.15 |
| 47 | TAIFA | 3.68 | 2.71 | 2.08 |
| 48 | TEMBO | 3.61 | 2.54 | 2.56 |
| 49 | SHIRIKA DTS | 3.61 | 2.77 | 2.78 |
| 50 | KENPIPE | 3.39 | 2.41 | 2.96 |
| 51 | NDEGE CHAI | 3.28 | 2.36 | 2.69 |
| 52 | KENYA HIGHLANDS | 3.21 | 2.12 | 1.64 |
| 53 | TAI | 3.13 | 2.13 | 2.23 |
| 54 | KENVERSITY | 3.12 | 2.23 | 2.43 |
| 55 | NG'ARISHA | 2.94 | 1.33 | 2.24 |
| 56 | GDC | 2.88 | 2.14 | 2.46 |
| 57 | ASILI | 2.74 | 1.73 | 1.36 |
| 58 | THE NOBLE | 2.57 | 1.94 | 2.06 |
| 59 | QWETU | 2.40 | 1.69 | 1.89 |
| 60 | NAWIRI | 2.37 | 1.39 | 1.63 |
Top 100 Sacco In Kenya
| | | | | |
| --- | --- | --- | --- | --- |
| 61 | NSSF | 2.34 | 1.52 | 1.64 |
| 62 | EGERTON UNIVERSITY | 2.30 | 1.55 | 1.58 |
| 63 | NATION | 2.24 | 1.71 | 1.55 |
| 64 | MWITO | 2.13 | 1.59 | 1.75 |
| 65 | BIASHARA | 2.07 | 1.38 | 1.66 |
| 66 | ARDHI | 2.04 | 1.60 | 1.68 |
| 67 | TRANS NATIONAL TIMES | 1.92 | 1.15 | 1.01 |
| 68 | SKYLINE | 1.83 | 1.32 | 1.06 |
| 69 | DIMKES | 1.76 | 1.42 | 1.51 |
| 70 | CHUNA | 1.72 | 1.32 | 0.92 |
| 71 | AZIMA | 1.71 | 1.05 | 1.15 |
| 72 | UKRISTO NA UFANISI | 1.69 | 1.40 | 1.23 |
| 73 | KINGDOM | 1.58 | 1.16 | 1.25 |
| 74 | WAKENYA PAMOJA | 1.51 | 0.80 | 0.79 |
| 75 | TRANS-ELITE COUNTY | 1.46 | 0.68 | 0.62 |
| 76 | SIMBA CHAI | 1.41 | 0.74 | 1.02 |
| 77 | WANANDEGE | 1.38 | 1.10 | 0.96 |
| 78 | WANANCHI | 1.37 | 0.95 | 0.81 |
| 79 | TAQWA | 1.36 | 1.21 | 0.94 |
| 80 | FARIDI | 1.35 | 0.82 | 1.15 |
---
Also Read:
---
| | | | | |
| --- | --- | --- | --- | --- |
| 81 | WANA-ANGA | 1.30 | 1.04 | 0.96 |
| 82 | UNIVERSAL TRADERS | 1.30 | 0.74 | 1.10 |
| 83 | DAIMA | 1.29 | 0.84 | 0.74 |
| 84 | SOUTHERN STAR | 1.24 | 0.88 | 0.93 |
| 85 | SMARTLIFE | 1.24 | 0.87 | 0.99 |
| 86 | ELIMU | 1.23 | 0.92 | 0.81 |
| 87 | ECO-PILLAR | 1.18 | 0.78 | 0.47 |
| 88 | CENTENARY | 1.17 | 0.91 | 0.94 |
| 89 | KITE | 1.06 | 0.62 | 0.46 |
| 90 | FUNDILIMA | 1.00 | 0.80 | 0.63 |
| 91 | TELEPOST | 1.00 | 0.45 | 0.31 |
| 92 | MAFANIKIO | 0.97 | 0.62 | 0.76 |
| 93 | MUKI | 0.90 | 0.65 | 0.62 |
| 94 | TABASAMU | 0.88 | 0.54 | 0.39 |
| 95 | SULUHU | 0.87 | 0.58 | 0.72 |
| 96 | AIRPORTS | 0.82 | 0.63 | 0.61 |
| 97 | 2NK | 0.81 | 0.66 | 0.57 |
| 98 | TIMES U | 0.81 | 0.58 | 0.66 |
| 99 | PRIME-TIME | 0.80 | 0.63 | 0.39 |
| 100 | K-PILLAR | 0.77 | 0.42 | 0.66 |
Mwalimu Sacco Emerge Best In Top 100 Sacco In Kenya