Govt Reduces Number of Examination Centres By 643.
The Cabinet Secretary for Education George Magoha has stated that the decision to merge examination centers with a small number of candidates will be enforced in order to maximize the use of security officers and personnel manning the centers.
According to Magoha, the government reduced the number of examination centers by 643 this year.
"We made the decision after wide consultations and we agreed we will consolidate the small schools so that we have at least 30 learners in the smallest centres," said Magoha.
He stated that the idea was inspired by the fact that the examination's security was being jeopardized, and there were insufficient security agents to staff all centers.
Magoha reassured that schools that are far apart would be given special consideration to ensure that candidates did not have to walk long distances to write their exams.
"If schools are spread more than 5km or so, as is the case in arid areas, we have reassured them that we are not going to allow our children to walk more than 3km," he said.
Magoha spoke following the dedication of a CBC classroom at St Mary's Mukunike Secondary School in Kangundo, Machakos County.
The 2021 KCPE examinations are scheduled to take place between March 7 and 10, according to the revised education calendar. And the KCSE exams will be held between March 11 and April 1, 2022.
According to KNEC data, 2,056,719 candidates registered to take the March national examinations. Of these, 1,225,693 will take the KCPE exam, while 831,026 will take the KCSE exam.
Magoha slammed those who advocated for local printing of exam materials, claiming that it could lead to serious irregularities.
---
Also Read:
---
"Those who are so keen in printing the examinations locally should be honest with themselves. At this time, our integrity status as a nation is till wanting and even our political leaders should know this. They should stop making too much noise. I am just doing what I must do," said Magoha.
The CS stated that the new education system will be implemented as planned and asked politicians to keep off its implementation.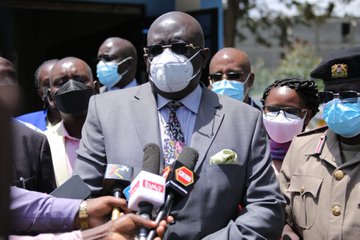 Govt Reduces Number of Examination Centres By 643