Kenyan Retired Teacher Makes World History.
James Kagambi, a retired Kenyan teacher, has made world history by summiting Mt Everest in a 40-day expedition.
Kagambi set out on the mission with his team, Full Circle, a group of Black climbers and mountaineers determined to reach the world's highest peak.
On Thursday, May 12, the retired teacher and owner of KG Mountain Expeditions became the first Kenyan native to reach the summit of Mt Everest.
"The Full Circle Everest team led by Philip Henderson from California has made history as the first all-Black team to stand atop the summit, the highest mountain on earth," Jiban Ghimire, managing director at Shangri-La Nepal Treks, confirmed to the Himalayan Times.
Kagambi joined Phil Henderson, Manoah Ainuu, Fred Campbell, Abby Dione, Thomas Moore, Desmond "Dom" Mullins, Rosemary Saal, and Eddie Taylor on the expedition.
When the team reached the summit of the world's highest peak, it nearly doubled the number of Black Everest summiteers.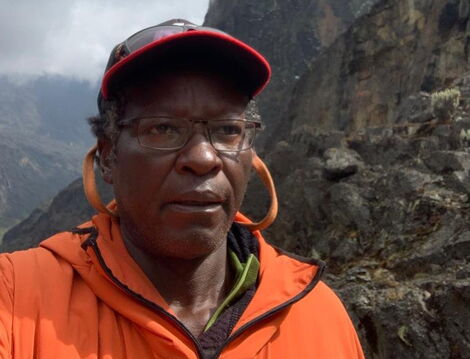 In 1987, Kagambi began working as a field instructor at National Outdoor Leadership School. According to his expedition company, he has worked as a backpacking, climbing, and mountaineering instructor in Africa, Chile, and the United States, spending over 700 weeks (13 years) as an outdoor educator.
Prior to attempting Mt. Everest, Kagambi completed three of the Seven Summits and represented Africa in the UN Peace Climb for the World on the Eiger in 1992.
"KG has summited the Eiger three times, was the first black African to summit Denali in 1989, and was the first black African to summit Aconcagua in 1994. He has led other climbs including Expedition Denali – First African-American expedition to Denali," his expedition describes him.
On December 12, 2013, he was one of five people who reached Mt Kenya's point Batian, Africa's second-highest point. He raised the Kenyan flag to commemorate the country's 50th anniversary of independence.
Evans Mwiti, Simon Thumuni, Kenneth Kimanthi, and Laban Wanjohi were also on the expedition. They later celebrated the achievement with President Uhuru Kenyatta.
Kagambi is currently training Kenya's mountain rescue teams and has climbed three of the world's seven highest peaks.
His patience and teaching ability developed as a result of his experience as a school teacher, sports coach, and teacher of traditional African music. His ability to teach stemmed from his experience as a school teacher, sports coach, and teacher of traditional African music.
Kenyan Retired Teacher Makes World History