Government Asked To Revive School Feeding Program To Increase Enrollment.
Education stakeholders want the government to restart the school feeding program in order to keep students in school and increase enrollment.
Speaking in Kilifi county, the stakeholders asked the government to revive the school feeding programme to retain students in classes and increase the enrolment.
Junju ward in Kilifi South is one of the hardest hit areas, with high poverty levels and a very low enrolment rate in some schools.
A visit to Mapawa Primary School revealed that low enrolment is due to poor infrastructure, sanitation, and a lack of a feeding program.
The 1974-built school has 340 students, five toilets, and old classrooms with no roofs.
According to the school's principal, Philomena Chome, the number of students has been decreasing.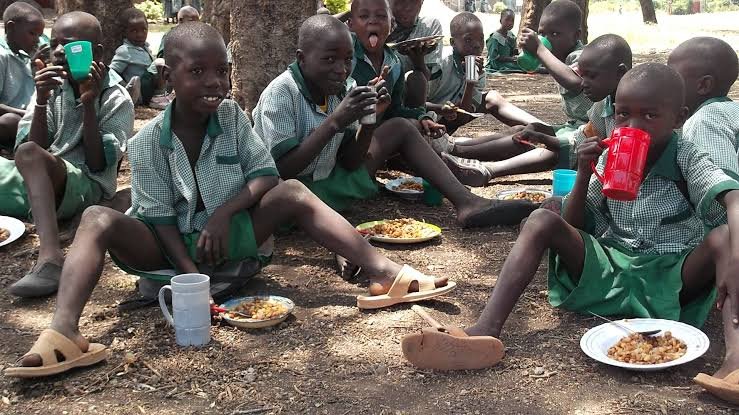 Chome spoke at a ceremony to distribute 3000 books on Thursday.
Ajuma Nasenyana, a Kenyan supermodel, donated the books through her Ajuma Foundation in collaboration with Chipper Cash, a cross-border payment company.
She stated that some students transfer to other schools due to poor infrastructure, a lack of desks, and cementless classroom floors.
"Maybe it because of the dilapidated classrooms that pupils go to other schools and lack of a feeding programme makes learners miss classes," she said.
According to Chome, many students arrive at school hungry.
She stated that when they had a feeding program, school enrollment was very high.
Chome thanked Ajuma Foundation and Chipper Cash for the donation, saying it would benefit many students.
---
ALSO READ:
---
Anthony Muli, the chairman of the school board of management, blamed the low enrollment on dilapidated classrooms and a lack of a feeding program.
Chipper Cash Kenya managing director Leon Kiptum stated that the Ajuma Foundation is donating books to approximately 3200 students and plans to donate 60,000 books by the end of the year.
He stated that they gave Sh7.5 million to the Ajuma Foundation to distribute books in underserved counties.
Kiptum stated that they have visited Taita Taveta Mombasa, Kilifi, and Lamu, and that they will soon be moving to central and western Kenya.
He stated that their company intends to launch a scholarship program to improve educational standards for the underprivileged.
Government Asked To Revive School Feeding Program To Increase Enrollment.