Candidate Who Pleaded For Help On Social Platforms Shines In KCSE 4 Years Later.
Joe Girard, an American salesman and renowned author, once stated that the elevator to success is out of order. You must take the stairs one step at a time.
The adage refers to the old adage that "hard work pays off," which has been praised by celebrities such as acclaimed actor Denzel Washington.
Lyon Nachikula, for example, faced a bleak future as his dream of attending Alliance High School faded.
However, four years later, his family is overjoyed after he received an A of 80 points in the recently released KCSE examination results.
In 2018, his plight was shared across various social media platforms as he struggled to raise enough funds to attend his dream school, Alliance.
Nachikula, who attended Itsowe Primary School in Tana River County, received 384 points.
The student was fortunate to receive an admission letter from Alliance High School informing him that he had been chosen to attend the prestigious learning institution.
Nachikula, on the other hand, faced a setback when his family was unable to raise funds for his education.
Fearing that the bright boy would miss out on the opportunity, friends and family members rallied Kenyans-of-goodwill on social media to help raise the funds.
"I am looking for 500 people to send Ksh500 and make a young man's dream of joining Alliance High come true. Meet Lyon Nachikula who sat for his KCPE at Itsowe Primary school, Tana River in 2017."
"He scored 384 points and has been called to join the national school but is about to lose that chance due to a lack of school fees. Anyone out there can help. He just needs Ksh53,000." read the online post.
After a large number of well-wishers generously responded to the student's plight, he was given the opportunity to attend Alliance High School.
---
ALSO READ:
---
Nachikula, determined to succeed in his studies, kept his eye on the prize and worked hard in order to reap the benefits at the national examinations.
True to the cause, the student received an 80-point grade for English B+, Kiswahili A-, Biology A-, Physics B+, Chemistry A, Geology A, and Computer Studies A.
Nachikula's family and friends have since praised the well-wishers for making his wish come true.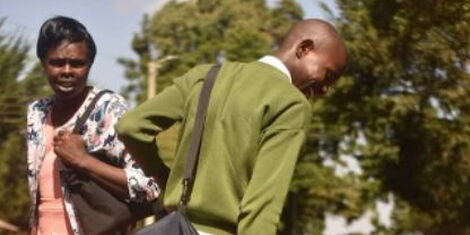 Candidate Who Pleaded For Help On Social Platforms Shines In KCSE 4 Years Later